Secor Home Center
800 West Miller Street (Wegmans Plaza) – Newark, New York 14513
Secor Home Center – Newark, New York
Secor Do it Best Lumber, Hardware & Rental has been a staple in the Savannah, Newark, and Ontario, New York area for over 80 years. Brothers Brian and David Secor — raised in Savannah, NY — took over the company from their father and grandfather before him, operating Secor Lumber in Savannah, New York in the spring of 1981. Since then, they have grown the company to include Secor Hardware in Ontario, NY on Route 104 as well as Secor Home Center in Wegmans Plaza in Newark.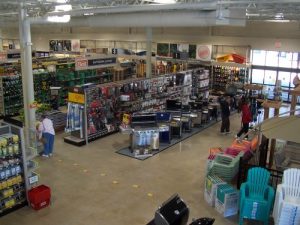 Secor Do it Best Lumber, Home Hardware & Rental Centers are proud members of Do it Best Corp, one of the USA's largest privately-owned businesses serving the hardware and home improvement needs of the nation. The inventory at each location is focused on serving the unique needs in the communities in which they are located.
Do It Best Affiliation
Do it Best Corp. is the only full-service, member-owned hardware and building materials distributor in the industry and serves a worldwide network of 4,000 individually owned hardware stores in all 50 states and 47 countries. Through our affiliation with Do it Best Corp., smaller local home improvement stores like Secor Do it Best Hardware & Rental can offer lower prices, giving them the ability to effectively compete with national "big box" chains.
Secor Newark Home Center
Because we are not a national "big box" chain, our staff is well-known for our in-depth expertise in specific product categories where big box retailers have traditionally been lacking.
In Newark, our retail and contractor offerings include a complete inventory of home improvement products including lumber, plumbing fixtures and supplies, a complete kitchen and bath design center, a fully stocked paint department, outdoor living center, and construction and building contractor services, including a full equipment rental center.

Growing to Meet the Needs of the Communities We Serve
The company prides itself on being a good fit when attracting and hiring other store owners and store managers who find reward in putting forth an exceptional customer service experience.
Customer Satisfaction
Because of this, the Secor staff maintain a strong approval rating from customers located throughout Central and Western New York. These customers include homeowners, contractors, commercial/industrial and agri-business accounts.
Adding to strong supply fundamentals, the Secor Building Solutions group maintains in depth construction knowledge and experience and is available to consult Secor customers on projects such as new homes, additions, remodeling, garages, horse barns, storage buildings, commercial facilities, and more.